Architecture Questions
Question 1
Explanation
Intent-based Networking (IBN) transforms a hardware-centric, manual network into a controller-led network that captures business intent and translates it into policies that can be automated and applied consistently across the network. The goal is for the network to continuously monitor and adjust network performance to help assure desired business outcomes. IBN builds on software-defined networking (SDN). SDN usually uses spine-leaf architecture, which is typically deployed as two layers: spines (such as an aggregation layer), and leaves (such as an access layer).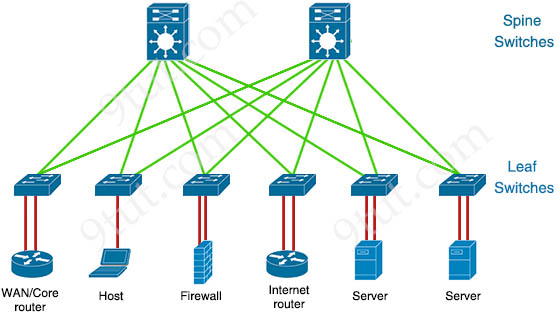 Question 2

Question 3

Explanation
The difference between on-premise and cloud is essentially where this hardware and software resides. On-premise means that a company keeps all of this IT environment onsite either managed by themselves or a third-party. Cloud means that it is housed offsite with someone else responsible for monitoring and maintaining it.
Question 4

Question 5
Explanation
Stateful Switchover (SSO) provides protection for network edge devices with dual Route Processors (RPs) that represent a single point of failure in the network design, and where an outage might result in loss of service for customers.
Reference: https://www.cisco.com/c/en/us/td/docs/switches/lan/catalyst6500/ios/12-2SY/configuration/guide/sy_swcg/stateful_switchover.html