ENCOR FAQs & Tips
In this article, I will try to summarize all the Frequently Asked Questions in the ENCOR 350-401 Exam. Hope it will save you some time searching through the Internet and asking your friends & teachers.
1. Please tell me how many questions in the real ENCOR exam, and how much time to answer them?
You have 120 minutes to answer 102 questions, include multiple choice and drag drop questions. There are no lab sims in this exam currently. But if your native language is not English, Cisco allows you a 30-minute exam time extension. But there are a few requirements to get this extension, so the best way is asking your teacher or mentor before taking the exam.
2. How much does the ENCOR 350-401 cost? And how many points I need to pass the exam?
This exam costs $400. You need at least 825/1000 points to pass this exam.
3. I passed the ENCOR exam, will I get a CCNP certificate for it?
No, ENCOR is only the core exam of the CCNP Enterprise certification. In order to get the CCNP Enterprise certification, you need to pass the ENCOR exam and one of the following concentration exams:
– 300-410 ENARSI: Implementing Cisco Enterprise Advanced Routing and Services (ENARSI)
– 300-415 ENSDWI: Implementing Cisco SD-WAN Solutions (ENSDWI)
– 300-420 ENSLD: Designing Cisco Enterprise Networks (ENSLD)
– 300-425 ENWLSD: Designing Cisco Enterprise Wireless Networks (ENWLSD)
– 300-430 ENWLSI: Implementing Cisco Enterprise Wireless Networks (ENWLSI)
– 300-435 ENAUTO: Implementing Automation for Cisco Enterprise Solutions (ENAUTO)
For example, you need to pass the ENCOR and ENARSI exam to get the CCNP Enterprise certificate.
4. So which concentration exam should I choose to complete my CCNP Enterprise cert?
First you should understand each of the concentration exams above:
– In ENARSI exam you will learn more about routing (EIGRP, OSPF, BGP, VPN & VRF-Lite) and services  (DHCP, AAA, SNMP, uRPF, IP SLA, NetFlow), mainly about how to troubleshoot them.
– In ENSDWI exam you will learn mainly about Cisco SD-WAN architecture (about vBond, vSmart, vManage and vEdge) and how they work. If your company is using them or you have a special reason to know about them then you should learn this exam.
– In ENSLD exam you will learn how to design popular routing protocols, WAN; describe SD-Access and SD-WAN.
– Two exams ENWLSD and ENWLSI will teach you about Wireless in detail
– The ENAUTO exam allows you to learn how to program and automate your network with APIs (JSON, XML, YANG; NETCONF and RESTCONF) using Python. The "network" here includes IOS XE devices, Cisco DNA Center, Cisco SD-WAN and Cisco Meraki.
In the above exams, only the ENARSI exam teach you about "traditional" network. If you don't have any special reason to learn other exams then it is the most suitable exam for you. If you used to learn how to program/code then the ENAUTO is also a recommended exam to take.
If you are still in doubt about any exam then we recommend you to find the syllabus of that exam and have a closer look by yourself before deciding, just google it (with keyword: "syllabus" + that exam name). We don't post direct links here because the subjects of these exams may change in the future so we wish you to find the latest syllabuses of these exams.
5. In the real exam, I clicked "Next" after choosing the answer, can I go back for reviewing?
No, you can't go back so you can't re-check your answers after clicking the "Next" button.
6. What are your recommended materials for ENCOR?
Currently the below materials are old so we will update them later.
There are many materials for learning ENCOR but below are popular materials that many candidates recommend.
Books
..
Video training
CBT Nuggets
Simulator (all are free)
GNS3 – the best simulator for learning ROUTE
Packet Tracer
EVE-NG
7. Are the exam questions the same in all the geographical locations?
Yes, the exam questions are the same in all geographical locations. But notice that Cisco has a pool of questions and each time you take the exam, a number of random questions will show up so you will not see all the same questions as the previous exam.
8. I passed the ENCOR exam. Do you have any site similar for CCNP Enterprise exams?
We have certprepare.com for CCNP Enterprise ENSDWI (a concentration exam of CCNP Enterprise certification) and networktut.com for ENARSI (another concentration exam of CCNP Enterprise certification).
We also have other sites (but only for sharing experience) like voicetut.com for Voice/Collaboration track, securitytut.com for Security track, dctut.com for Data Center track, sptut.com for Service Provider track, wirelesstut.com for Wireless track, opstut.com for DevNet track. Hope you enjoy these sites and find useful information too!
9. How many CCNP tracks does Cisco support now?
Cisco supports 7 CCNP tracks, which are:
1. CCNP Enterprise
2. CCNP Security
3. CCNP Service provider
4. CCNP Collaboration
5. CCNP Data Center
6. Cisco Certified DevNet
7. Cisco Certified CyberOps
In each track, you need to pass a dedicated core exam then pass one concentration exam of that track. Please check the picture below for more detail: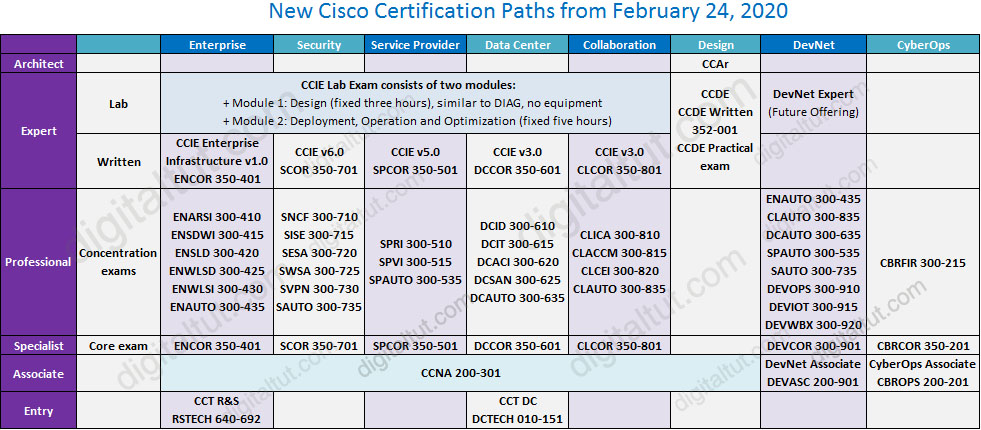 Note: With these new tracks, CCNA is no longer a prerequisite for CCNP. You can go directly for CCNP certs. But the knowledge of CCNA is highly recommended if you want to reach CCNP.
10. I passed (old) CCNP but my CCNP cert is going to expire and I want to recertify it. Which exam should I get?
According to Cisco Recertification Policy page, you need to complete one of the following things:
– Pass one technology core exam
– Pass any two professional concentration exams
– Pass one CCIE lab exam
Therefore if you only want to take one exam to recertify then you must pass the ENCOR 350-401 exam or any technology core exam of other tracks (for example the DCCOR 350-601 of Data Center track or the SCOR 300-701 of Security track).
Also if you earn 80 CE credits then you can also recertify your CCNP Enterprise cert.
11. Why don't I see any questions and answers on digitaltut.com? I only see the explanation…
Because of copyrighted issues, we had to remove all the questions and answers. You can download a PDF file to see the questions at this link: https://www.digitaltut.com/encor-questions-and-answers
Is there anything you want to ask? Just ask! All of us will help you.