DHCP Questions
Here you will find answers to DHCP Questions
Question 1
Refer to the exhibit. The DHCP configuration that is shown is configured on a Cisco router. Which statement is true?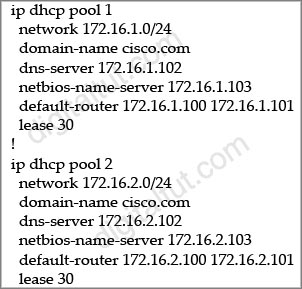 A. The router will distribute IP addresses from pool 1 until its addresses are exhausted. Then the router will begin distributing addresses from pool 2.
B. The router will choose which pool to use based upon the interface the DHCP request was received on.
C. The configuration is invalid because the DHCP options are global configuration commands.
D. The configuration is incomplete until the DHCP pools are bound to the appropriate interface or interfaces.
Answer: B
Explanation
Notice that these commands are not configured under interface mode, the router notices the incoming interface of the DHCP Request and compares the connected subnets to the pools and picks a pool that matches the address range. For example, in this question when this router receives a DHCP Request from 172.16.1.1/24 it will use pool 1.