Drag and Drop 3
Here you will find answers to Drag and Drop Questions – Part 3
Question 1
Drag the "show" commands on the left to their proper locations on the right.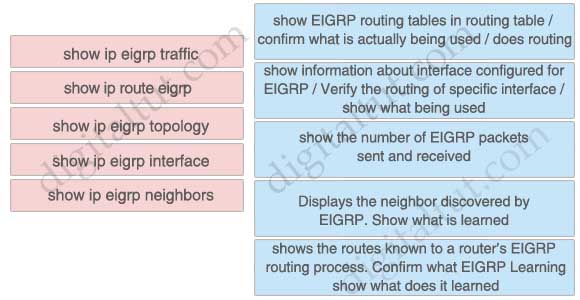 Answer:
+ show ip route eigrp: show EIGRP routing tables in routing table / confirm what is actually being used / does routing
+ show ip eigrp interface: show information about interface configured for EIGRP / Verify the routing of specific interface /
show what being used
+ show ip eigrp traffic: show the number of EIGRP packets sent and received
+ show ip eigrp neighbors: Displays the neighbor discovered by EIGRP. Show what is learned
+ show ip eigrp topology: shows the routes known to a router's EIGRP routing process. Confirm what EIGRP Learning show what does it learned
Question 2
LSA corresponding area type.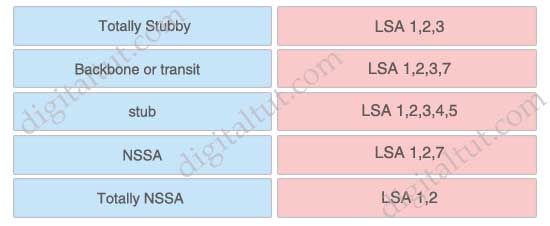 Answer:
+ stub: LSA 1,2,3
+ NSSA: LSA 1,2,3,7
+ Backbone or transit: LSA 1,2,3,4,5
+ Totally NSSA: LSA 1,2,7
+ Totally stubby: LSA 1,2
Question 3
Place the BGP attributes in the correct order used for determining a route.

Answer:
+ MED: Propagated between AS
+ weight: Propagated within local preference / used with multiple exit points out of an AS
+ Local Preference: Propagated within AS
Question 4

Answer:
+ Bandwidth Management: low-speed WAN links
+ Authentication: WAN link to an external supplier
+ Redistribution: integrating two merging companies
+ Stubs: 256 kb/s CIR FR hub and spokes
Question 5
Click the resources on the left that you need to create an implementation plan for an OSPF project and drag them to the target zone on the right.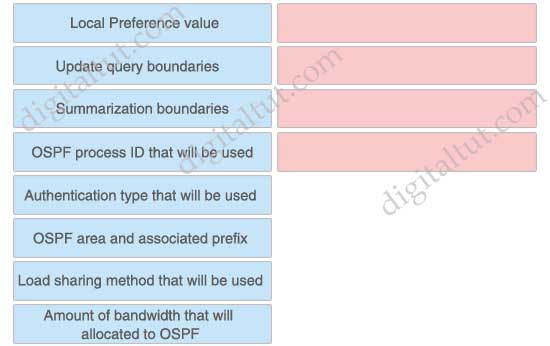 Answer:
+ Summarization boundaries
+ OSPF process ID that will be used
+ Authentication type that will be used
+ OSPF area and associated prefix
Question 6

Answer:
+ Which is used by router if route has more than one exit: weight
+ Which is not propagated in updates: weight
+ Which is spread through in the AS: local preference
+ Which goes to other AS: MED
Question 7
Click and drag the BGP attribute characterization on the left to the correct BGP attribute on the right.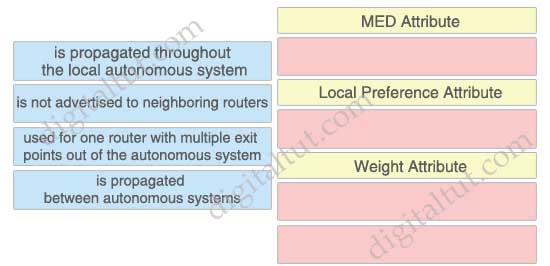 Answer:
MED Attribute
is propagated between autonomous systems
Local Preference Attribute
is propagated throughout the local autonomous system
Weight Attribute
+ is not advertised to neighboring routers
+ used for one router with multiple exit points out of the autonomous system
–