PPP over Ethernet (PPPoE) Tutorial
Configuration at Server side (PPPoE Server)

1. First we configure a broadband aggregation (BBA) group (in fact, I preferred calling it a PPPoE profile) to establish PPPoE sessions. Then we link to a virtual template with the virtual-template 1 command.
bba-group pppoe MyPPPoEProfile
 virtual-template 1
2. Now we will create the virtual template 1 interface
interface Virtual-Template 1
 ip address 10.0.0.1 255.255.255.0
 peer default ip address pool PPPoE_Pool
 ppp authentication chap
The virtual template interface will be cloned to virtual access interfaces (VAI) for all physical PPPoE interfaces that use the PPPoE profile above. Multiple PPPoE links can share the same virtual template. When a VAI is triggered, the configuration attributes in the virtual template are cloned to that VAI. Let's see an example with three customers: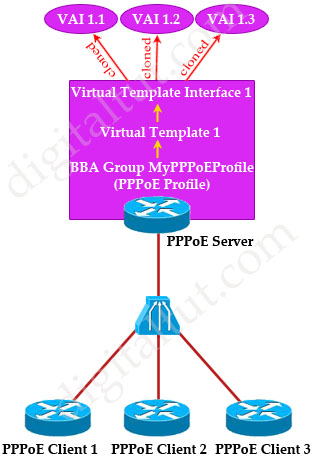 When the customers make a connection to our PPPoE Server, the PPPoe Server links to the virtual template interface 1 to create a new VAI. As the result of this, PPPoE Client 1 will be connected to VAI1.1, PPPoE Client 2 to VAI1.2, PPPoE Client 3 to VAI1.3, … Notice they are considered point-to-point connections.
We also need to define a pool of IP addresses from which the PPPoE clients are assigned IP addresses (same as DHCP) with the peer default ip address pool PPPoE_Pool command. "PPPoEPool" is the name of our pool which we are going to create.
We wish to configure CHAP for authentication so we use the ppp authentication chap command.
As the result of two commands above, we need to configure the pool PPPoEPool and create a username & password in global configuration mode so that PPPoE client can be authenticated:
ip local pool PPPoE_Pool 10.0.0.2 10.0.0.254
username TUT password MyPPPoE
Note: This username and password was also configured on PPPoE Client TUT router.
3. Finally link the PPPoE profile to the physical E0/0 interface, which is connected to the PPPoE client.
interface Ethernet0/0
 pppoe enable group MyPPPoEProfile
The picture below shows all the configuration in one place for your quick review: